Spinach Mac 'N' Cheese Quesadilla
Healthy and delicious, this yummy mac and cheese quesadilla will wow your taste buds.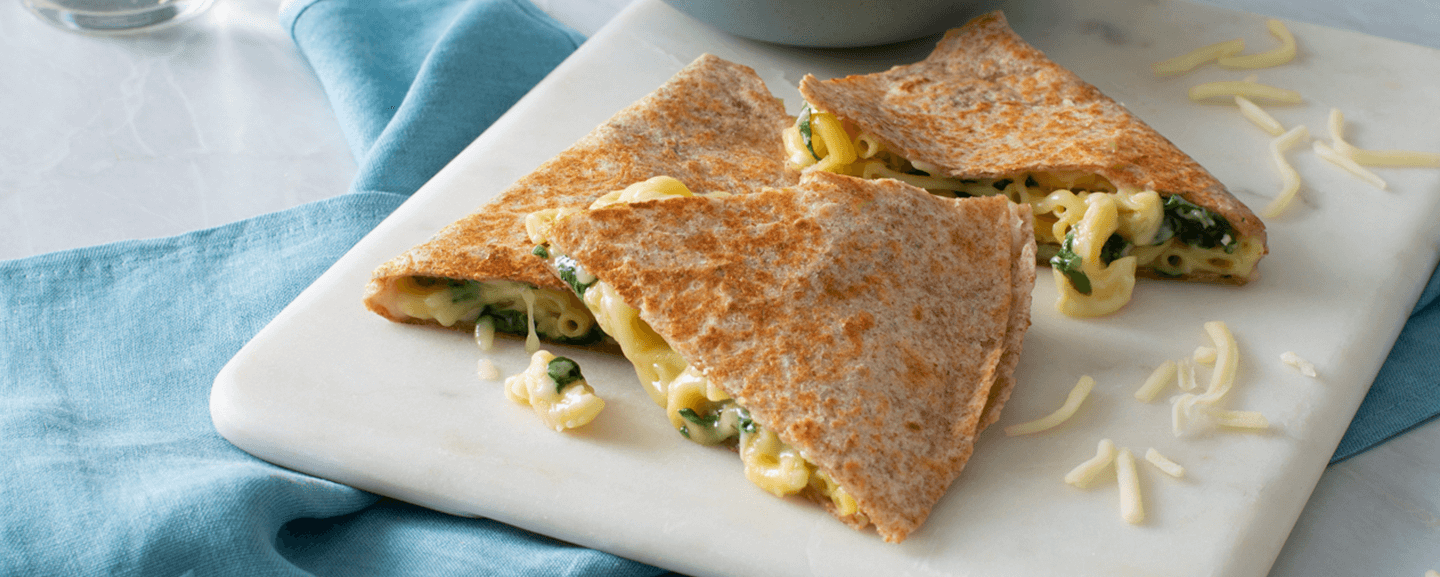 | Prep Time | Cook Time | Yields |
| --- | --- | --- |
| 15 Mins | 35 Mins | Serves 6 |
Ingredients
2 cups (500 mL) shredded P'tit Québec Mozzarella Block, divided
1 1/2 cups (375 mL) macaroni
1/4 cup (60 mL) olive oil, divided
1 onion, diced
2 cloves garlic, minced
1 tbsp (15 mL) all-purpose flour
1 1/4 cups (375 mL) 2% milk
2 tsp (10 mL) Dijon mustard
1/2 tsp (2 mL) each salt and pepper
Pinch ground nutmeg
2 cups (500 mL) packed baby spinach
6 whole wheat tortillas (10 inch/25 cm)
2/3 cup (150 mL) basil pesto, for dipping
Directions
Cook pasta according to package directions. Drain well, reserving 1/4 cup (60 mL) cooking liquid.
Meanwhile, heat 2 tbsp (30 mL) oil in large skillet set over medium heat; cook onion and garlic for 3 to 5 minutes or until softened. Sprinkle flour over top; cook, stirring, for 2 to 3 minutes or until smooth.
Slowly whisk in milk; bring to boil, whisking constantly. Reduce heat to medium-low; cook, stirring constantly, for 3 to 5 minutes or until thickened slightly. Stir in mustard, salt, pepper and nutmeg; stir in spinach. Cook for 1 to 2 minutes or until spinach wilts.
Reduce heat to low. Stir in 1 cup (250 mL) cheese for about 30 seconds or until starting to melt. Stir in pasta (mixture should be thick, but if too thick, stir in enough of the reserved cooking liquid for desired consistency). Let cool slightly.
Sprinkle half of the remaining cheese evenly over one side of each tortilla. Divide mac 'n' cheese among tortillas. Sprinkle remaining cheese over top; fold tortillas over.
Heat 1 tbsp (15 mL) oil in large skillet set over medium heat; cook quesadillas in batches for 2 to 3 minutes per side or until golden brown and cheese melts, adding remaining oil as needed.
Cut quesadillas into wedges and serve with pesto.
Tip: Substitute baby kale for spinach if desired.