Ham, Swiss Chard & Swiss Cheese Polenta Bake
Similar to a layered lasagna, this polenta casserole makes a hearty dinner that everyone will love.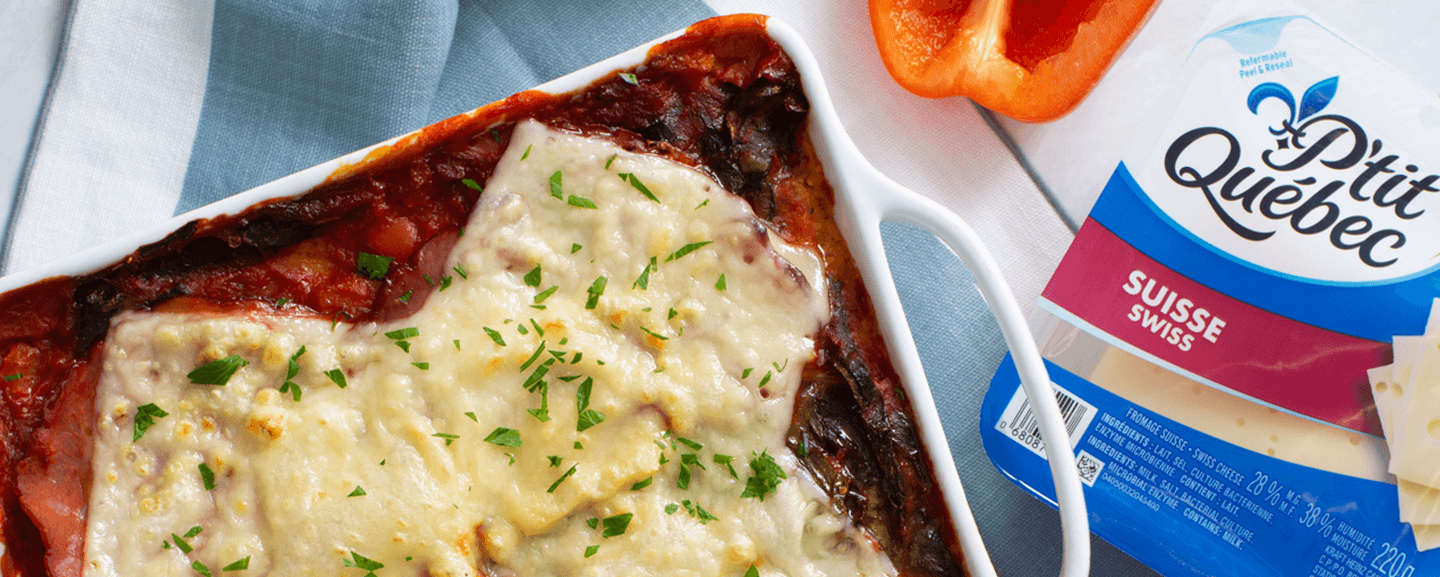 | Prep Time | Cook Time | Yields |
| --- | --- | --- |
| 20 Mins | 50 Mins | Serves 6 |
Ingredients
1 pkg (220 g) P'tit Québec Swiss Natural Cheese Slices
1 1/2 cups (375 mL) fine or medium-ground cornmeal
3 tbsp (45 mL) butter
1 1/4 tsp (6 mL) salt, divided
3/4 tsp (4 mL) red chili flakes
2 tbsp (30 mL) olive oil
1 onion, diced
1 red bell pepper, diced
3 cloves garlic, minced
2 tbsp (30 mL) finely chopped fresh thyme
1/4 tsp (1 mL) pepper
1/2 cup (125 mL) dry white wine
1 can (796 mL) crushed canned tomatoes
1 bunch Swiss chard, trimmed and chopped
8 slices ham
Directions
Grease 9-inch (22 cm) square baking dish; set aside.
In saucepan, bring 4 cups (1 L) water to boil; whisking constantly, gradually whisk in cornmeal (whisking will help eliminate any lumps from forming). Reduce heat to medium-low; cook, stirring constantly, for 10 to 15 minutes or until polenta is thick and will mound on a spoon.
Stir in butter, 3/4 tsp (4 mL) salt, and red chili flakes. Spread half of the polenta in bottom of prepared baking dish; let cool.
Meanwhile, preheat oven to 400˚F (200˚C). Heat oil in large skillet set over medium heat; cook onion, red pepper, garlic, thyme, remaining salt and pepper for 3 to 5 minutes or until vegetables are slightly softened. Stir in wine; bring to boil. Stir in tomatoes and Swiss chard; return to boil. Cook for 8 to 10 minutes or until thickened slightly.
Spread half of the tomato mixture over polenta in baking dish; layer half of the ham slices and half of the cheese slices over top. Repeat layers.
Bake for 20 to 30 minutes or until golden and bubbly. Let cool slightly before serving.
Tips:
Substitute smoked turkey slices for ham if desired.
To cut down preparation time, use instant polenta and cook according to package directions.