Squash and Sage Grilled Cheese
Butternut squash and sage add delicious gourmet flavours in this ooey-gooey grilled cheese sandwich.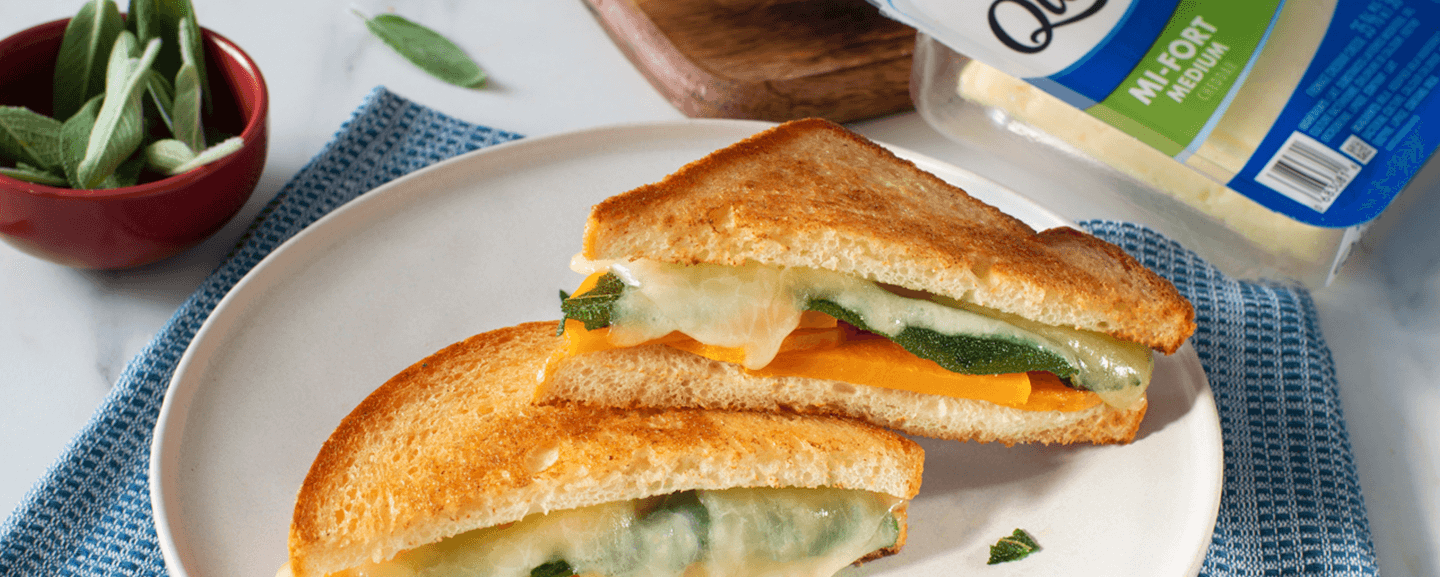 | Prep Time | Cook Time | Yields |
| --- | --- | --- |
| 10 Mins | 50 Mins | Serves 4 |
Ingredients
 1/2 butternut squash, peeled and seeded (cut into 1/2-inch (1 cm) thick slices)
1/4 cup (60 mL) olive oil, divided
1/4 tsp (1 mL) each salt and pepper
12 large fresh sage leaves
8 slices sourdough bread
2 tbsp (30 mL) butter
Directions
Preheat oven to 425°F (220°C). Toss butternut squash slices with 4 tsp (20 mL) of the oil, salt and pepper. Arrange in single layer on parchment paper-lined baking sheet; bake for 20 to 25 minutes or until golden and tender.
Meanwhile, heat remaining oil in small skillet set over medium heat; cook sage leaves for 2 to 3 minutes or until fragrant and crispy. Transfer to plate.
Top each of 4 slices of bread with 1 cheese slice. Layer butternut squash slices, sage and another cheese slice over top; cap with remaining bread slices. Butter outside bread slices of each sandwich.
Preheat large skillet set over medium-low heat; cook sandwiches, in 2 batches, for 2 to 3 minutes per side or until bread is golden brown and cheese melts. Cut each sandwich in half.